ISLAMABAD - The Taliban have announced the resumption of direct flights between Afghanistan and China after a gap of three years, saying it would help boost bilateral economic and political relations.
The first weekly passenger flight of the national flag carrier Ariana Afghan Airlines left Kabul on Wednesday for Urumqi, the capital of the western Chinese border province of Xinjiang. The COVID-19 pandemic disrupted the air operation in early 2020.
The Taliban deputy minister for transport and civil aviation, Ghulam Jilani Wafa, hailed the resumption of the air service while addressing reporters at the airport in the Afghan capital.
'These flights would directly impact enhancing economic, political, and commercial ties between the Islamic Emirate of Afghanistan and China,' Wafa said, using the official title for the Taliban's unrecognized government.
Taliban deputy minister for civil aviation, Ghulam Jilani Wafa, hailed the resumption of Afghan flights to China, May 24, 2023. (Official Afghan TV Screenshot)
No country, including China, has recognized the Taliban as the legitimate rulers of Afghanistan, mainly over human rights concerns and restrictions imposed on women's access to education and work.
China has stepped up engagements with its conflict-ravaged neighbor since the Taliban reclaimed power in August 2021, when all United States-led Western troops closed out their involvement in the Afghan war and departed the country after almost two decades.
On Tuesday, the Chinese ambassador to Kabul, Wang Yu, told Taliban Foreign Minister Amir Khan Muttaqi that Beijing 'has maintained normal relations with Afghanistan and is willing to strengthen it.'
Muttaqi's office said the Chinese diplomat promised his country would facilitate increased Afghan exports to China and expedite 'preliminary work' on the Mes Ainak mines, which contain Afghanistan's largest copper deposits.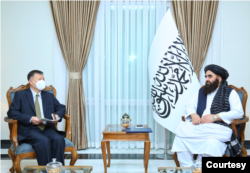 Chinese ambassador to Kabul, Wang Yu, met with Taliban Foreign Minister Amir Khan Muttaqi, May 23, 2023. (Photo courtesy of Taliban FM).
The Taliban's Ministry of Mines and Petroleum has said it hopes for Chinese investment in the site, which is about 40 kilometers southeast of the Afghan capital.
In April, the ministry reportedly talked with a Chinese company about a potential $10 billion deal to extract lithium but offered no further details. The South Asian nation has an estimated untapped mineral deposit of about $1 trillion, including iron ore, copper, lithium, gold, gemstones, and hydrocarbon resources.
In January, Taliban Deputy Prime Minister Abdul Ghani Baradar and Wang jointly announced a contract with a Chinese company to extract oil from the Amu Darya basin in the northern provinces of Afghanistan over the next 25 years.
The deal would bring about $540 million in Chinese investment and would create an estimated 3,000 jobs, according to Taliban officials. China reportedly will build a refinery in Afghanistan to process the oil.
Chinese Foreign Minister Qin Gang attended a trilateral dialogue with the Taliban and Pakistan in Islamabad earlier in May, and he agreed to extend Beijing's global Belt and Road Initiative to Afghanistan.
Islamabad has received billions of dollars in Chinese investment, building major economic infrastructure projects, such as roads, power plants, and ports. The collaboration - the China-Pakistan Economic Corridor, or CPEC - is the BRI's flagship project. Both countries say they are set to link it to Afghanistan to promote regional connectivity.
The Chinese foreign ministry recently released an 11-point policy statement regarding Afghanistan. It emphasized the need for the Taliban to ensure 'moderate and prudent' governance in Afghanistan through an 'open and inclusive' political structure, while urging the international community to enhance engagement with Kabul.
The statement also expressed hope the de facto Afghan authorities would fulfill their 'commitment in earnest' to effectively combat terrorism.
In exchange for its economic outreach, China primarily seeks assurances from the Taliban to prevent the spread of extremism from Afghanistan into Xinjiang and beyond and ensure the security of Chinese nationals.
Beijing has long alleged that extremists linked to the anti-China East Turkestan Islamic Movement use sanctuaries on Afghan soil to wage cross-border terrorism.
China's deepening engagement with Afghanistan apparently stems from its interest in mineral extractions and to further its own influence in the broader region.